Fabrication



---
- Projects -
---
- Updates -
ULS PLS4.75 Assembled
Aug 09, 2013

The new laser engraver is up and running. One of the reason why we do our best to source equipment and material domestically is that ultimately we all need employment. While we current cannot afford employment to anyone, not even ourselves, the least we can do is to try and buy domestic whenever we can.
ULS PLS4.75 Arrival
Aug 01, 2013

A new arrival to help tackle bigger and faster laser engraving and cutting projects. Various platforms from different manufacturers were evaluated. Ultimately we feel that the ULS system offers the best value, has the best local support, and is made in USA :)
Universal Laser System
Platform:
PLS4.75
Work Area:
24" x 18"
Laser:
60W CO2
Options:
Cutting Table
Air Assist
Made In USA

Laser Cutting
Jan 18, 2013

Compared to CNC machining, laser cutting has a shorter development time because the cut/engrave patterns are design in a free form drawing program(Inkscape) and interfaces with the laser engraver via the print function.
An ULS M300 35Watt CO2 laser engraver was used to cut and engrave the US made clear Acrylite FF extruded sheets.
Miller Tig Setup
Jun 26, 2012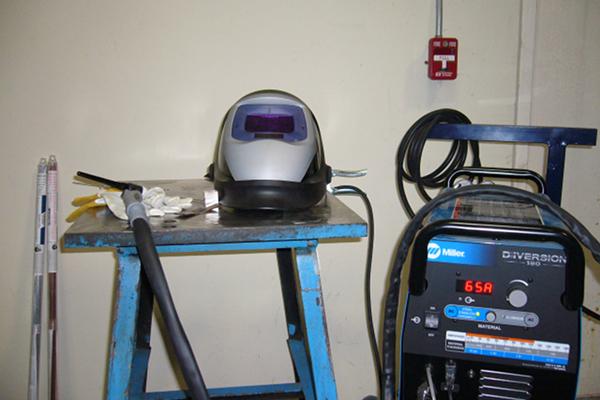 It took a while, a long while, but the Miller Diversion 180 Tig welder is finally up and running. Switching back and forth between AC or DC welding for aluminum or stainless steel was as simple as a push of a button. A twist of a knob sets the maximum welding current and the foot pedal control gives finer adjustments.
The 3M Speedglas auto tinting welding helmet was great. With limited budget, I was concerned about the smaller lens of the 9100V versus the top of the line 9100XX model. However, so far I haven't notice any view restrictions. The 3M Speedglas is a much welcomed alternative to the older non-auto tinting Huntsman welding helmet.

Prototyping - ElectroChemical Etch
Apr 13, 2012
Electro-Chemical Etcher - McMaster
Starter Kit 2amp Hand Marker
$73.80
16oz Stainless Steel Electrolyte
$10.77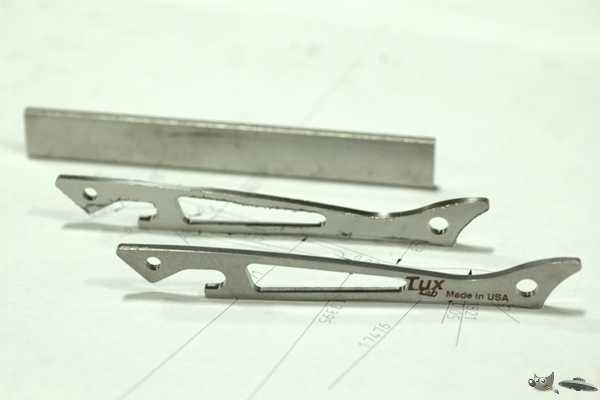 Raw Stock, Machined, Deburred Burnished & Etched
Finally, a TIG cart
Mar 30, 2012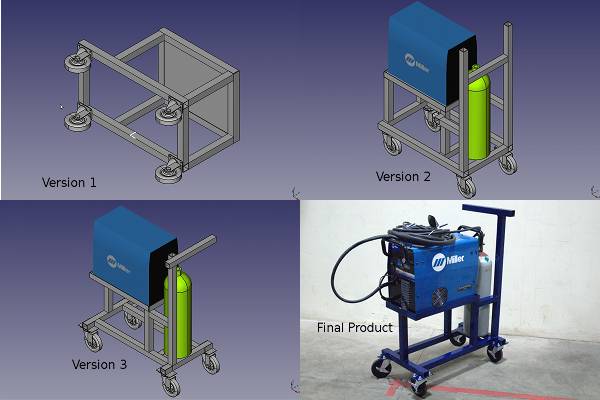 A cart for Miller Diversion 180 TIG welder. The design took a few iterations with
FreeCAD
, an open source 3D parametric CAD program. The cart design looks different from
Nov 11, 2011
's design. The older design was drawn using
OpenSCAD
with the help of
py2scad
.while the newer design was drawn using FreeCAD.
Amazingly most of the tools used were made in democratic countries.

Miller SP175+ MIG Welder - Made in USA
3M SpeedGlas Welding Helmet - Made in Sweden
Metabo Angle Grinder - Made in Germany
Milwaukee Chop Saw - Made in Taiwan


RepRap Frame Design
Nov 10, 2011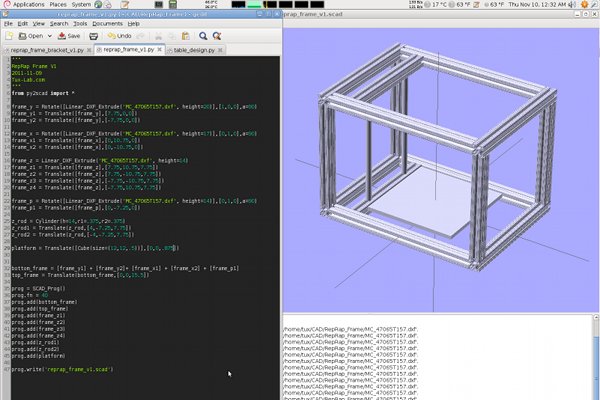 Preliminary frame design with 80/20 aluminum extrusions using the original Darwin xyz gantry concept instead of Mandel's sliding bed design. The targeted work envelop is a 12 inch cube.
Where did July Go?
Aug 08, 2011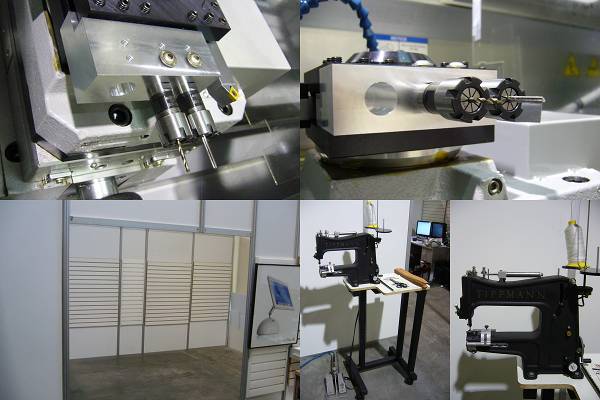 Time flies. The little gang tool block for the Haas TL-2 took a whole day to complete. The gang tool is primary for drilling and tapping operation on the lathe. It's another small step toward automating the TL-2.
Another ~140sqft was added to accommodate the sewing machines. The Tippmann Aerostitch is up and running, though the tensioner still needs some fine tuning. It's a pretty unique American made pneumatic powered industrial sewing machine. How does it fit in with the cnc machines. . . donno. . . .
New and old tools
Jul 06, 2011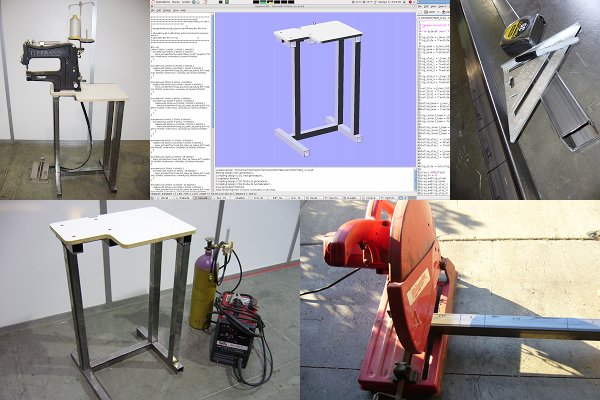 The little Lincoln SP170-T MIG welder and the abrasive chop saw are probably the oldest equipment in the shop while OpenSCAD and py2scad are two of the newest tools.
The table and square tubing profiles were first drawn in qcad then extruded and assembled using py2scad for output to OpenSCAD. The tabletop was machined using the Haas SR-100 cnc router and will be bolted to the welded metal table frame.
The table is for a Tippmann Aerostitch pneumatically operated sewing machine. It's one of the few American made heavy duty sewing machine available in the used market. The table still needs to be thoroughly welded, primed, and painted. However, by using open source cad packages, I was able to design, view, and modify the conceptual model and also dimension the parts for machining and cutting.
What Can Tux do for You?
Jun 19, 2011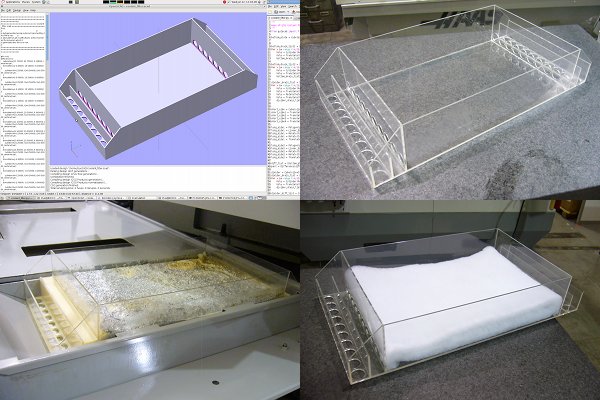 What can open source software do for you?
Clockwise from the upper left corner, a chip/oil trap filter for the Haas VF-2SS coolant tank designed with OpenSCAD using IO Rodeo's py2scad openscad file generator. The actual chip filter frame built from lase cut acrylic. Chip filter frame with polyester filter. Chip filter in use.